An elderly Asian woman believed to be in her seventies was crossing the intersection of Bellaire and Boone in west Houston when a pickup truck that was turning from Boone Rd struck her. The driver of the pickup truck has now been arrested and is facing DWI charges.
The accident happened shortly before 9:30 p.m. when police say the driver of a black Dodge pickup truck, Yennifer Viveros Villarreal was turning eastbound onto Bellaire Boulevard as she was traveling southbound on Boone Road.
As she was making the left turn, the elderly woman was crossing Bellaire in a crosswalk and struck the elderly woman. The elderly woman was transported to a local hospital where she died shortly after arriving. The driver of the truck remained at the scene and was cooperating with officers.
Police at the scene stated a witness had dashcam video that showed the elderly woman crossing on a "do not cross" traffic signal and believed at the time the elderly woman may have been at fault but were awaiting a DWI test. That test later revealed that the driver of the dodge pick up was in fact intoxicated.
Yennifer Viveros Villarreal (shown below) is charged with misdemeanor driving while intoxicated. At this time she is not being charged with homicide, (likely because of the dashcam video officers at the scene were able to review that showed the elderly woman crossing on a "no crossing signal" but that may change as the investigation is ongoing.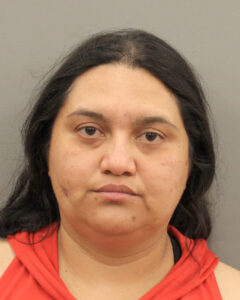 The victim's identity is currently being withheld pending verification and notification to the family via Harris County Institute of Forensic Sciences.
This is still a developing story and we will update you as soon as we learn any new information.